For the Couple @ Hepalane
I was eating at Hepalane (not the most appetizing name I know) with Nica earlier during my lunch break when she noticed two guys behind me holding each other's hands. I took a quick peek and there they are; two souls so in love with each other that they didn't care what other would think. They were obviously a gay couple and they were really sweet. I took a longer glance the second time I looked and I saw the other guy put his arms around his partner's waist.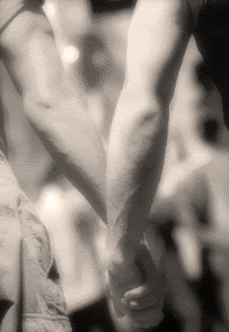 Suddenly I felt a tinge of pity for myself. When will I be in that situation? Will I ever be in the first place? And then I remembered Robbie. We used to do that when our relationship was new. He used to hug me, kiss me on the back and hold my hand every chance he got. We were like them before – couldn't get enough of each other. But as our relationship developed with time, he seemed to be moving farther away from me.
For what reason?
I don't know. All I know is/was his loved lessened until I could feel it no more.
And the next thing I knew I was trying really hard to move on.
For that couple at Hepalane,
I wish you the best with all sincerity. I am envious of your relationship and I hope you will last forever (if there's such a thing). You make us (single people) feel that there's still hope in this sad bitter world and that people like us deserve to be loved and cared for and especially be proud of for.

Cairo update:
I read from this guy's blog
Lexan
that Cairo had brought his new boyfriend to MCC. As Lexan described him the guy was
"melanin deprived syota niya… pero okay naman… highly fashionable… mukhang mamahalin… mukhang silent type… mukhang sampong beses maligo isang araw… medyo mahirap yatang espellingin…"
Totally the opposite of me. Well I am sure his happy and I have somehow learned to accept the fact that he never really liked me. So I am moving on…
Read
Lexan's blog
. You might learn a thing or two. I totally love it.