14 January 2014
Went Black & White Today
Tell me what you think. :-)
Posted via Blogaway
Untitled
I am a frustrated artist who finds refuge in bitterness and solitude. Angst is what I speak and love is what I hide. I never want to be seen naked for in nakedness there is truth and truth I am afraid of. Reality never seems to be fair, life in fact is iniquitous.
I like to put up a facade like a masked man in a party. I like to exude and air of mystery and fear. For in fear I earn respect and respect I treasure.
I like to play God once in a while, controlling the people who surround me. I love to twist emotions and bring out the insides.
I have found love but it left me suddenly for reasons until now I do not understand. He pierced right through everything that is me and left a broken arrow in my heart. But I let that happen because I loved him so sincerely. If there was a time I really loved someone, it would be that time. He rocked my world; sadly, he rocked me to my death...
Posted via Blogaway
10 May 2010
A Virgin Voter
In less than seven hours, voting precints all over the nation will open its doors for what is called the first automated election in the country. A lot of people are afraid of the election failing and some are praying for a successful one. And me? I really don't care.

I am already 27 and I have never exercised my right to vote and honestly, and unfortunately perhaps, I can't think of a specific reason why.

I have never been a fan of public office or the government. I think people only go to politics for fame, power and money. Really helping perhaps comes after everything else.

I just hope the next set of officers set true examples of leadership and the sincerity to help without being corrupt. That way, people like me will learn to appreciate a clean government free from corruption and broken promises.
03 February 2010
The Photographer and the Model at 5505
Day 2
At 5 am the following morning, we were walking to the beach in hope of beautiful shots of the sunrise. Yanie was still in her pajamas and I was in my sleeping pants. The morning got breeze got colder as we approached the wonderful waters of Barangay Tabin-dagat. We waited patiently for the sun to rise while doing some exercises
kuno
. We jogged around in the islets and took pictures of the sun rising in the east. Unfortunately the sky was filled with low dark clouds so we didn't see the rising of the sun in full. It was okay. We still have our camera.
We are waiting for the sunrise
Yanie and me at the beach
What's left of the sunset after dark clouds covered most of it
February 01 - Start of another empty V month :(
The Odiongan public market was our next stop. Yanie bought small shrimps which she made into
okoys
that evening and two
tumpok ng sihi
which my sister-in-law cooked with coconut milk for lunch. Yanie also got herself some kind of green sea algae, which smells really weird which she made into a salad added with sliced tomatoes, vinegar, onions, etc.
The clams we caught yesterday and the sihi from the market in coconut milk
We went back to the beach come afternoon and Yanie wore her pretty small white dress which she bought from the Ukay-ukay managed by my sister-in-law for only 100 bucks.
We saw this sign on the way to the beach. Hmmm... Parang bitin ng siya ng very light. Very light lang naman. Lol.
My time to shine... in yellow!
In a small pretty white dress from UK
The photographer in a semi-yummy-lakas-makaStraight-pose
After a hard day's work, the photographer and the model enjoyed some snacks. Nagbaon kami ng nilagang saging at kalamay-hati sa beach then bili ng gulaman sa may parola. Sarap!
That night, we picked Buen from his house and headed to Barangay Libertad's fiesta. The coronation was boring so we enjoyed ourselves in the perya where I lost six pesos. We didn't stay long and went straight home.
Me playing "color game" at a perya at Libertad
Are you familiar with the "color game"?
**************************************************************
You can also see the rest of the pictures at Yanie's and my Facebook accounts.
The Photographer and the Model at 5505
Day 1 (continuation)
Choose your color: One of the many delicacies of the province. Lol.
After lunch we headed back to the beach to watch the sunset. We arrived early so we went ahead and took more pictures until the screen of the camera was saying, "Low Battery." Good thing it didn't fully gave up on us come sunset.
Here are some pictures of our misadventures.
Yanie minus the tummy tuck courtesy of Adobe Photohop CS. Alaveit!
Yanie's Ploning version - FLONING!
Yanie takes on a more daring role.
Movie Title: Ang Kamison ni Lola.
My Alma Mater now known as Romblon State University (RSU)
White part at the beach! :)
Brew soaring high... (blag! sakit...)
Yanie and Me invades the mangroves - about 3km from the town proper.
Brew points at the beautiful Odiongan sunset. Indeed a lovely sight.
The day ended with a beautiful sunset. Yanie and I were there to witness one of nature's miracles. This end welcomes a new beginning.

**************************************************************
You can also see the rest of the pictures at Yanie's and my Facebook accounts.
01 February 2010
The Photographer and the Model at 5505
Day 1
It's Yanie's second day here in Odiongan and I am so excited about her trip here. Yanie is an ex-officemate from eTelecare Global Solutions which recently merged (most of us think it's a buyout) with Stream Global Services. She's in the frontdesk scene in the Alabang site but we previously worked together in an account in Libis.
She left Batangas port at around 6pm and arrived here around 3am. Usually the trip only lasts around 8hrs and that the Roro (Roll on, Roll off) leaves the port at 5pm. I didn't know what caused the delay.
I arrived the Odiongan port around 1:30am, left my bike outside the gate and asked the guard if he can let me in explaining that my friend had a lot of baggage with her and would need help. I lied of course. She only had two bags with her. The port was almost empty except for the jeepneys parked on the left side and some vendor offering boiled eggs and peanuts. In my hurry, I left the house without my undies on and was only wearing a white board shorts. It was really cold.
I didn't have any money on me and was really wanting to smoke. The guard said the boat would arrive in between 2am-3am. There was still no boat that can be seen in the horizon so I hurriedly went back home, got money and bought meself 10pcs of Marlboro lights. It was only a 15-20 minute drive to and fro so I was back at the port in no time. The boat docked past 3am and a few minutes after, I was waving my hands to Yanie.
We headed to the beach both wearing white and had a pictorial. Well I was the camera guy, she was the over-excited-and-demanding model. It was all fun.
After the shoot, we went back home, had lunch and went to another part of the beach. She also bought some pasalubongs for her officemates.
**************************************************************
You can also see the rest of the pictures at Yanie's and my Facebook accounts.
30 January 2010
Things I Have Learned So Far
1.
Never engage in an argument
you know you'd never win. Losing is not a healthy feeling.
2.
Always smile
. Sometimes the cruelest person makes a u-turn when they see people smiling. Plus it's a good exercise for your facial muscles.
3.
Never settle
if you are not sure you're ready for big responsibilities. It takes a lot of effort for relationships to work.
4. Choose your partner and
wear a condom
. It's still best to be safe than sorry.
5. Get a job you're happy with.
Don't waste your youth
staying in something you don't like.
6. If you feel he is gay, most probably he is.
Trust your instincts
.
7.
Never nag
. It's painful to the ears and you don't get any good results.
8.
Check your options
before making a decision. It's stressful to return a tee that does not fit you especially after 7 days of purchase.
9.
Read labels and instructions
. This will help you understand better and avoid a lot of questions.
10. Lock your rooms. This will save you, and your moms, the embarrassment of finding out you're gay because you're
sucking your neighbor
, the local
tubero
.
11. Never wear skinny jeans if you are vertically-challenged.
It doesn't look good
.
12.
Don't lie
about your age. People will find out anyway.
13. When looking for an apartment,
make sure it doesn't flood in the area
. You'll never know when the next Ondoy will hit again.
14. It is okay to kiss-ass as long as you get what you want. Machiavelli said, "
The
end justifies the means
." Make sure you do this discreetly though.
15.
Never get involved with someone from work
. It causes distractions and rumors, which prevents people from effectively and efficiently doing their jobs.
16.
Love yourself
. No one else will.
17.
Take a break
at least once every three months. This will help you relax and sort your priorities.
18.
Believe in something good
. This will keep you sane.
19. If you think you can't, then you probably couldn't.
Keep a positive outlook
and look forward.
21.
Treat your friends
out at least once every two months. This will give them the perception you're doing well even if you're not and you'd be their envy.
22.
Trim or shave
. Proper hygiene is the key to a feeling good about yourself. Plus it will make you look bigger.
23. Never put a ball-point pen in your pocket.
It stains
.
24.
Boxers are better
than briefs. It allows your
junjun
to breathe and access is easier.
25. Don't cross the road if a pink sign says, "
Walang Tawiran. Nakamamatay
." Even if you don't get hit by a car, you'll get arrested by an MMDA officer.
26. Never buy self-help books on love.
They only make things worse
.
27. Have faith in people.
You'll be surprised
.
28. Get drunk once in a while.
It's a good form of release
.
29.
Get an iPod
. It makes long distance travelling easier to bear.
30.
And lastly, read Brew.

It's better than having sex. Lol.
28 January 2010
The Beautiful and the Disaster Part II
The night seemed to be going perfect until DISASTER happened...
While I was drinking me second beer, which turned out to be the last for the night, the handler of candidate #5 approached me:
Mark: "To, marunong ka magDrive?"
Me: "Opo."
Mark: "May motor ka?"
Me: "Opo."
Mark: "Ok lang ba ihatid mo siya (points at contestant #5) sa bahay nila?"
Me: "Ok lang. TagaSaan ba siya?"
Mark: "Sa Odiongan, sa bayan malapit sa RSU (Romblon State University)."
Me: "Ang layo naman. Sino kasama mo?"
Mark: "Ikaw lang. Sino ba pwede mong kasama?"
Me: "Baka si Buen o si Kit pero mukhang nag-eenjoy na sila eh." (More dance na yung dalawa sa gitna ng dancefloor.)
Mark: "Sige ako na lang."

I agreed and asked them to wait outside the plaza while I get the bike parked across the street. I told Buen I'd come back for him as soon as possible.
We hit the road and everything was smooth for a few minutes. Most of the road were cemented and we were running at around 60 tops. Then the handler asked me, "Ikaw ba panganay ni Mam Dhors?" I said yes and our conversation went from there. He said he is from Batiano and is teaching college in RSU. Batiano is the birth place of my mom and is about 3 kilometers away from town where we live. We were having a nice talk until...
The cement road ended and unfortunately, I did not notice it. I was not able to slow down as we hit the dirt road. We swayed for a bit but I was able to control the vehicle after a while until I noticed something was wrong. "Flat ata," I said as I stopped in a dark corner of the road where there were no street lights and the only visible lights were coming from the moon and the vehicle.
Confirmed. We had a flat tire, a really flat tire at that. I tried to test drive it alone but it was really hard to maneuver. Mark decided to text his friend to pick us up. I texted Buen I couldn't go back because of what happened and that he'd have to go home with Kit instead. No reply. I took it as "ok."
After around 20 minutes of waiting, he arrived, our savior. He took the contestant and the Mark with him while I drive the vehicle with the flat tire this time I was going at a speed of 20. They were behind me as was driving at the same speed. Hope came over me when Mark mentioned a vulcanizing shop at the next barangay, Gabawan.
We drove for what I thought were endless minutes until we reached Gabawan. Luck was obviously not our side and the shop was closed.
Next stop was Barangay Dapawan which was about four barangays away. There was a lot of things going on on my mind.
Shit! Magagalit si Papa. Lalo na si Mama kasi di nya ako pinayagan originally eh nung nagpaalam ako. Si Papa lang talaga yung umOkey. Baka di rin ako payagan bumalik mamayang gabi para sa Ms. Gay dahil dito. Di ko ba sasabihin ang nangyari? Paano mamaya pag gising nila at nalaman na flat yung gulong? PaVulcanaize ko kaya at huwag sabihin sa kanila para parang walang nangyari? Paano kung wala nang open? Gisingin ko na lang kaya si Papa at siya na magpaVulcanize?
I was almost already murmuring to myself when the other vehicle drove past me and I heard the driver say, "Sundan mo kami." We were already in Dapawan. We took a left turn and then another right until we reached the VULCANIZING SHOP. It was heaven. I never thought I'd look at a vulcanizing shop in such admiration. The sign said CLOSED.
The driver of the other vehicle shouted but in a controlled manner, "Bes, Bes." There was light. An old man, obviously interrupted from his deep slumber came out of the bamboo-slit gate.
Rear tire was taken off for some vulcanizing job. The old guy didn't get any help from me as I don't know anything about bikes.
He agreed to help us. I told the driver bring contestant #5 home. Mark agreed to stay with me. The
vulcanizer
guy started his magic. He first removed the rear tire of the bike, removed the interior and determined how many holes there was. He said there were many and are the result of running on a flat tire. My bad! Later he'd tell me there were actually only two holes, one caused by a nail which penetrated the hard rubber and the other caused by running on a flat tire. I let out a sigh of relief.
I texted Papa immediately. I told him the truth. He asked me if I needed help, I said I was okay. A few minutes later, Papa was there on a bike. He left after being assured that everything was fine. I think it helped that he knew Mark. The driver came back with two burgers and two bottles of water then left. Mark and I continued on with our conversation until the
vulcanizer
guy was finished.
My SAVIOR. If you're ever here in Odiongan, Romblon and is in need of any vulcanizing jobs, I suggest you go here. It is located at Barangay Dapawan. Just look for the market place and you'll definitely won't miss it. They also sell over a year old vinegars. Maasin na maasim at really affordable prizes. The also have uling and mini lanterns for sale. Kaya ano pang hinihintay mo, Go Na Here at Elvis Vulcanizing Shop! They've got it all for you! Chos!

40 pesos! That was how much it cost us!

We asked again thinking we heard it wrong but we heard it right. 40 pesos. Mark gave him 50 pesos and I added 20 pesos. Mark was as shocked as me and we shifted our conversation from him being a handler to how much a vulcanizing shop earns in a day. We ended in an agreement that that's the line of business we'd never venture into to. Then a few laughs until we reached his home. I drove back to town and bought myself cigarette from a burger stand near the town plaza on the way home.
The Beautiful and the Disaster Part I
Buen, a highschool friend invited me to go to Brgy. Panique, the last barangay of the town. It's about 20 to 30 minutes ride from town if you're going 60.
Here's how the invitation went - as exactly how I got it:
Buen: "Tian,my motor ka?tara punta tau ng panique...txtbCk po
Me: "Nu meon?"
Buen: "Coronation,punta tau txt me f okay d2 lang aq kanto dapawan sa my simenteryo,la ne me xtra load...tnx"
Me: "Sige ligo lang ako. Daanan kita jan."
Buen: "Ok xtian take your time dito lang ako...cgeh po w8 kita..."

So I hurriedly prepared for the night out. I picked him just outside the cemetery gate and we headed to a gasoline station where they sell gasoline in one liter Coke bottles. We got a liter of gasoline.
We arrived at Barangay Panique around ten in the evening. Inside the elementary school campus was being held the
Ms. Panique 2010
. It was already starting. The place was crowded so we decided to stay outside and walk for a bit. Just a note: According to Buen, it was an open pageant which means anybody from any barangay or town could join which was the case. Made me wonder why it was not titled Ms. Open Pageant 2010 instead. Just a thought. Hihihi...
Buen is known by everyone. That's how gays are here. They can run in public office and they would be sure winners, popularity-wise that is. Especially Buen. He seem to know everybody. We talked for a bit and then we saw a "peryahan" across the street. We went there and played. I lost twenty pesos in the "color game." There are three cube with each side colored. Then they are rolled on to a slanted plank. You place bets on which color you think will come up. You're lucky if all the dices come up with same color you bet on, you get triple the amount of your bet. Buen on the other hand tried his shooting skills. He was given a gun full with pellets for ten pesos. Everyone there, including the bystanders were cheeringfor him. He able to shoot 3 small plastic soldiers and as a prize was given one piece of Sky Flake biscuit which he later gave to a small kid behind him. Lol.
Buen aiming hard at the small targets
After the perya stint, we headed to a small sari-sari store (ain't sari-sari stores supposed to be smoall? Lol) and bought beers. I got SanMig Light while he did Red Horse while doing some poses for my almost-battery-empty camera.
Me drinking my first of two bottles for the night.
Me and Buen: Ang Mga Dayong Bakla sa Barangay Panique. Lol.
Me waiting for Buen to come out of the dressing room
After the beer, we watched the pageant. We stayed on the left side of the stage near the candidates' makeshift dressing area. It's a small area about 2x2 meters and was covered up to about 5 ft in height. You can see young and old men trying so hard to take a glimpse of the contestants inside. (ewww...mga mambobosa...)

There, I met some of Buen's gay friends who were also the handlers of the contestants. Then someone said to me, "Kuya Ian, si Kit to!" It was my friend's younger brother is now gayer than ever.

------------------------------------------------------------------------------------

Side Bar

I asked how much he makes being the handler of a contestant. Handlers do the make-up, prepare the costumes, and other things. It's hard work. Kit said the cut depends on how much the prize is and if the contestant wins or lose. That night the major prize was Php 5,000.00. The handler gets around Php 1,500.00 from that amount. The amount is higher if the gown and costumes came from the handler. Unfortunately, Kit's contestant did not win anything, not even a special award. He got Php 400.00. He said,
"wala na namang pangchupa."
Buen, Kit and Me - The official cam whores of the night.
Kit and Buen - Tinalo pa yung mga contestants sa poses!

------------------------------------------------------------------------------------
There were 9 candidates which were trimmed down to 5. The five had their Q&A which the host said was a make or break. I noticed that the host loved to say the word "sophisticated." If I remember it correctly, he used the word to describe more than half of the contestants during the evening gown presentation. He would even use it with the word "simple" in one sentence. Kinda confusing... The answers of the contestants during the Q&A were also depressing.

Slouchy Ms. Panique 2009 came out in a yellow gown (Cory! Cory! Cory!) for her final walk before the winners were announced. After the awarding it was DANCE DANCE DANCE. People rushed to the dance floor, most of which were half drunk and were doing all sorts of no-care-in-the-world dance moves. Really entertaining.

My camera was really dead but I managed to take a few more shots before it totally said goodbye. Here they are.

Miss Panique 2010 First Runner-up
The night seemed to be going perfect until DISASTER happened...

*This post should been posted earlier at around 5am but the power went out. Thank God Blogger has been auto-saving everything...
26 January 2010
Help me Win an iPod Nano!
Sal
has been bugging me for two days now about this website where if you register you will get an iPod Nano. I am not really a believer of online promos as there are so many scams going on. He was really persistent and even gave specific instructions on what to do to register and to win the prize. Since I have nothing to do today I finally gave in. The website, according to him, is some kind of a networking site like
Facebook
and
Frienster
. The registration is really easy plus it does not require you to enter an email address, which is good because I get a lot of unwanted mails in my inbox everyday.
What I didn't know, and I think Sal intentionally did not tell me, is that for you to get the iPod, you'd have to refer people to the site. There are in total 20 iPods for grabs and Sal is already one of the 20 people so far. Competition ends on January 31, 2010 at 2:00am. The top 20 people who has the most referrals win. So far I ain't in the list yet so
I am begging you people
, help me win that
freakin'
prize. Hahaha... Click this
link
to register or click this:
http://vk.com/reg67198402.
***************************************
Habol Lang....
Kadarating lang ni Papa (biological) from work. He and mom are elementary teachers. Galing ata si Papa sa ibat-ibang schools doing some rounds and while at it took pictures of the schools. He asked me to edit them or as he put it, "pagandahin ko raw." I told him I can't do anything with the pictures since they're relatively already good.
So I was browsing the album and I found this really funny photo of a bulletin board from some school he visited earlier. I won't mention the name of the school anymore because the last time I wrote something negative about a college in Quezon City, I received a lot of
hate
comments (I deleted the post already).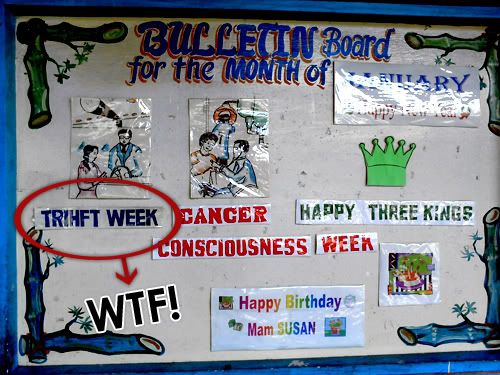 Here it is. Need I say more what the major error is?
---
All Rights Reserved March 2007
All images and designs are my property unless stated otherwise.