Help me Win an iPod Nano!
Sal
has been bugging me for two days now about this website where if you register you will get an iPod Nano. I am not really a believer of online promos as there are so many scams going on. He was really persistent and even gave specific instructions on what to do to register and to win the prize. Since I have nothing to do today I finally gave in. The website, according to him, is some kind of a networking site like
Facebook
and
Frienster
. The registration is really easy plus it does not require you to enter an email address, which is good because I get a lot of unwanted mails in my inbox everyday.
What I didn't know, and I think Sal intentionally did not tell me, is that for you to get the iPod, you'd have to refer people to the site. There are in total 20 iPods for grabs and Sal is already one of the 20 people so far. Competition ends on January 31, 2010 at 2:00am. The top 20 people who has the most referrals win. So far I ain't in the list yet so
I am begging you people
, help me win that
freakin'
prize. Hahaha... Click this
link
to register or click this:
http://vk.com/reg67198402.
***************************************
Habol Lang....
Kadarating lang ni Papa (biological) from work. He and mom are elementary teachers. Galing ata si Papa sa ibat-ibang schools doing some rounds and while at it took pictures of the schools. He asked me to edit them or as he put it, "pagandahin ko raw." I told him I can't do anything with the pictures since they're relatively already good.
So I was browsing the album and I found this really funny photo of a bulletin board from some school he visited earlier. I won't mention the name of the school anymore because the last time I wrote something negative about a college in Quezon City, I received a lot of
hate
comments (I deleted the post already).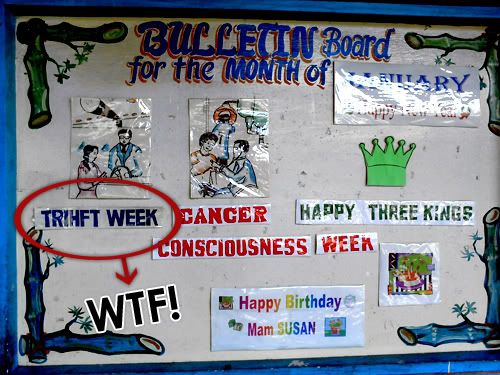 Here it is. Need I say more what the major error is?