2007: Huh?!
Happy new year everyone!
2008.

I wonder what this year will bring me. I do hope it's something good. Last year, which was

just about hours ago

, was a combination of both sad and happy things but its mostly the latter.
2007 Highlights
- My relationship with my bestfriend became stronger and our night outs became more frequent.
- In total, I had 18 guys I went to bed with, 8 of which were bottom and four of which claimed to be first timers. (Really now?)
- I got promoted twice last year at work. Yipee! The hard work finally paid off.
- I got my hair cut really short, thank to Dustine. It was my third time in this lifetime.
- I finally uploaded the new template of my blog which by the way, I am starting to get tired of so I might make a new one. No promises when this time though.
- My weight improved.
- People in Palawan think I am younger than my age. I just turned 25. Happy birthday to me!
- I got myself a new iPod video with 80G memory, only one-third of which is consumed until now.
- Janah & Jano gave birth to three beautiful kittens. More mouths to feed at home but ther cuteness always gets me. I love cats.
- Still got no boyfriend, an achievement I am really proud of. It's been 1 year and 10 months... going 2 years!
- I feel I pretty much can get any guy I want... in Palawan. Hahaha...
- I grew a goatee and I think it looks good on me. Guys think it's ticklish... Let your imagination soar...
- I met a lot of gorgeous guys and had a lot of proposals which I turned down.
- The holiday saw me as someone who was a divisoria addict. Not that I want to be. I went there because of work. It's a long story. one of these day, I'll post something about it... and a lot of pictures too. Ü
Well that's just about what I remember but I am sure there are more.
By the way, I uploaded some new pictures in my friendster account. Check 'em out! My email is pinokyo23@yahoo.com. (don't ask!)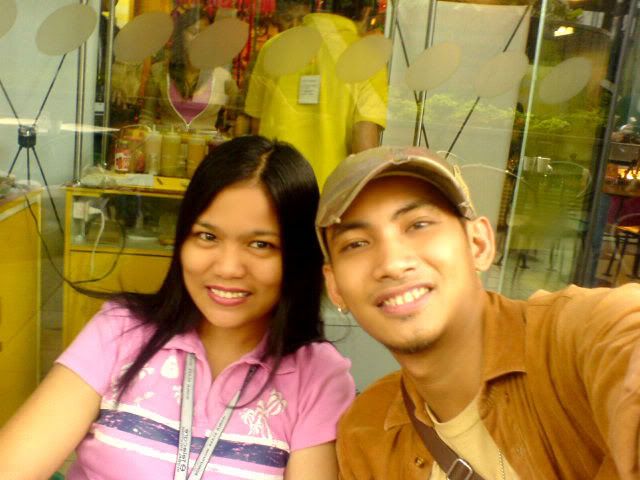 Yanie and me after our shift.
Yanie & Me at Cybermall, Eastwood
Happy new year again guys!
Labels: bestfriend, new year, yanie