Haunted by the Past
Friday.
It's my day off. And I don't know if I'll be going anywhere. I lost my phone last night and that means I can not invite my friends our or even tell them I plan to go out. Probably I'll my usual coffee @ Bo's Coffee Club later. Or I might have a haircut. I don't know. Come what may I suppose.
I checked Aphol friendster a couple of days back and I saw she had updated her pictures. It now includes the pictures from our recent Galera—the one with Robbie. Seeing Robbie in those pictures reminded me of how bitter I am about what happened. It stinks to know that he enjoyed Aphol's company more he did with me. It was my fault. The whole trip was probably a disaster for him as it was for me. *Sigh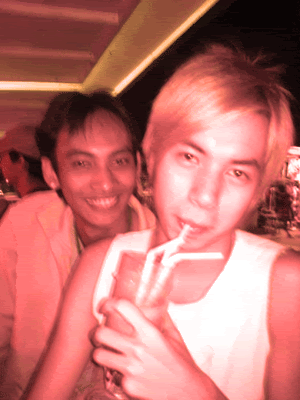 Me trying to fit in to Robbie's world. ;'(
Past.
I remember the first time we met. Robbie was Ryan's "take out" for that night. Miguel, Ryan and me had a dare. Whoever meets the guy with the largest dick wins. Miguel and I didn't bring any. Ryan had Robbie who was with his best friend. We stayed at Miguel's abandoned house in Project 6. We were with a couple more friends. The dare it seemed was then impossible to fulfill. We were just too many and Robbie was the sure winner. According to Ryan, Robbie had a huge dick. He saw it once while Robbie was showing off in his cam for every meat lovers to see. Ryan was one of them I suppose.
We started the night with a bottle of Emperador. We gathered on the floor and started a dare game—truth or consequence. Robbie was asked who he liked in the group. He pointed at me. That time the feeling was already mutual. When I was my turn I readily pointed at him. He was then asked to kiss the guy he liked. Again it was me. I also kissed him. He asked questions like
Are you top or bottom, Are you in a relationship
and the likes. The next thing I knew we were sitting together, kissing each other like there was no tomorrow.
I like the way he kisses. He will kiss you ever so lightly and then gently wipe your lips with his thumb. I find that very romantic. And that was the first time I experienced something like that.
Right there and then I knew I was going to be in love. And I was. I still am.
The first time we ever had sex was on my room. He licked me all over literally and I licked him too. He sucked me and I sucked him. And then I tried to fuck him but he couldn't take the pain. It was going to be his first, and so he said. I tried it again gently but seeing his face, I realized how painful it was for him. I stopped. My libido went six-feet under. He was my angel. He is my angel. And I didn't want to hurt him. I don't want to hurt him. He said sorry and I understood. He promised next time it was going to be different. And yes it was. I fucked twice, thrice and it was wonderful. It's not really a matter or fulfilling your carnal desires by fucking somebody. It is that wonderful feeling, the moment when you share your body with someone you actually like that makes the difference. I felt that with Robbie.
The first month was heaven. The second was earth. The third was painful.
I would so hypocrite if I said I don't love him anymore. I still do just the same as the first time we met. The sad and excruciating thing is facing the fact that he doesn't feel the same way anymore. It' the thought of
probabilities
that makes it hard to move on.
Emo level:
Really low. And I lost my phone. I am devastated.
Here are some pictures from my second visit to Galera. I will post more soon.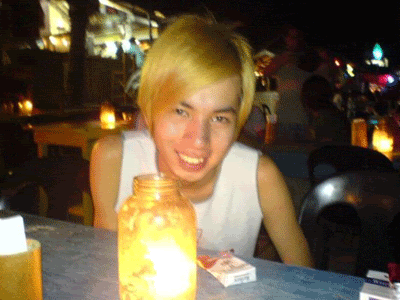 The love of my life--Robbie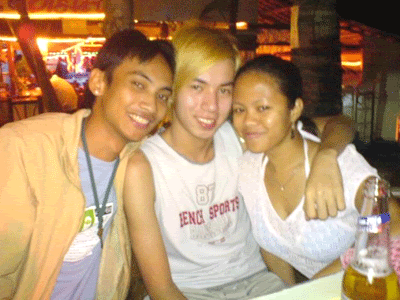 Me, Robbie and Aphol -- I look like their chaperon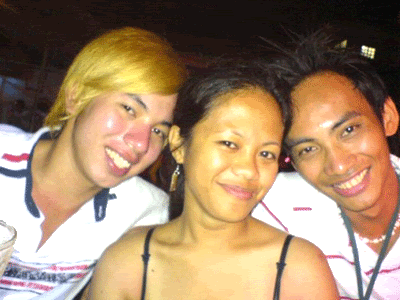 Robbie, Aphol and Me -- Me trying hard to have fun. Argh!
*Sigh