G4M Party @ Club Government
Wanna Come With?
At work again listening to Neyo's Because of You while checking my
G4M
, Friendster and my blog. I got one comment from
Chris
for my previous post but I really didn't get the message. I think he was asking for my contacts but I ain't really that sure. So if you are reading this, kindly clarify what you meant.
So there's gonna be a party at Club Government on the 24th of January. Club Goverment and Guys4men present TRIPLE G SPOT as G4M turns one year old @ Club Goverment. I am thinking of going. With whom? I still dunno. But I already submitted my intentions for free entrance. Wanna come with? Just email me or send me something. Below is how the ad goes.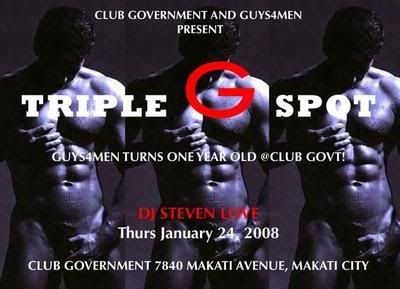 Wanna Come With?
CLUB GOVERNMENT AND GUYS4MEN present TRIPLE G SPOT - Thursday Jan 24, 2008 Guys4men turns one year old @ CLUB GOVERNMENT! The party that started it is back!! Get ready to turn on all your G Spots at the hottest club in the metro! Be prepared to party and celebrate with Manila's hottest guys4men members! Free cocktails, mega performances, and the hottest GOVERNMENT gogoboys to tease you on the dancefloor!
I have been to the place twice and on one occassion it was New Year's eve. Lol. The second one was when I was with a group of friends, one of which was a fuck bud. I don't really like the place accessibility-wise. I live in Tandang Sora which is like miles away from the club. But I wanna try something different from my usual taste of Palawan crowd so I am gonna try this party and see how it goes.
So if you are going, then send me something. We can pro'ly go together.
This invite though is strictly for those who are goodlooking and someone I could possibly end up in bed with... my bed...
Lol! That was a joke. Well part of it is. Ü
Labels: Club Government, G4M, Party