Stuff on My Beautiful Body
I have been wanting to post this yesterday but since it was Mother's Day, I figured I had to postpone it since i promise to write something about my mom. So I am posting it now.
------
While on the bus going home yesterday, I thought of something interesting to post, something I have never posted before about, something I always do but never thought of writing about. And then when the bus was about to take a U-Turn along Mindanao Ave, I thought of an idea. So here it is—stuff I took off from my body when I arrive home. I took some pictures too.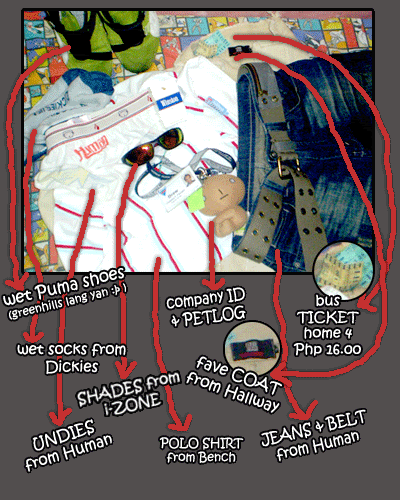 (1) wet PUMA shoes
– now this is not original. I bought it from the ever-reliable Greenhills. I have had it for about 2 months now. It is wet because of the rain.
(2) wet socks from Dickes
– I brought this one last year from the Dickies shop in Farmer's Market in Cubao. I was on my way to work then and I figured I take a look at the shop. Bought a pair of socks and a belt.
(3) undies from Human
– the Human shop at SM North is like one of my fave shopping places in the urban. Their designs are unique and they only make a few items of the same style so when you get out the mall, you won't see a lot of people wearing the same thing. Same reason I love Ukay-Ukays. Hahaha… And guess what, so far, I have only seen ONE guy wearing the same undies. And that was in Puerto Galera. And NO, I didn't sleep with him. The reason I knew was because he was wearing a really thin pajamas of some sort.
*Wanna see me on my undies? Hmm... Just ask.
(4) shades from i-ZONE
- (recent acquisition) got this one for the company summer outing. Now I usually wear it to work. But with the weather and all, I doubt I'll be wearing it anytime soon.
(5) polo shirt from Bench
– now this one is not from the adult section. I took this out of the teen section. Hahaha… but it fits really well.
(6) company ID and Petlog
– well it's obvious. I go to work and thus I have an ID. It would cost me Php700 if I lose it. It has some sort of a chip so when I flash it in front of the black box, the door opens. Neat huh? And of course,
PETLOG
(
see previous post
) who's real name is Kogepan.
(7) fave coat from Hallway
– now this one cost me more than a thousand bucks. It was being modeled then by a mannequin and the minute I saw it, I feel in love with it. Thought to myself, I had to get one. And I did. Anyways I wouldn't recommend that you shop at Hallway. Their stuff are just so expensive. Try Greenhills. You'll see the same (well almost) coat for like half the price. Trust me. I have been told this when I attended a Christmas party last year. This guy approached me and asked me where I got it. He told me he saw the same coat at Greenhills.
I so wanted to slap him for telling me that. But I ain't a party-pooper so I shut up.

(8) jeans and belt
– both from Human. (belt from recent acquisitions) Need I say more? Got both this year.
(9) bus ticket home
– proof that I do take the
bus
home. Those tickets cost 16 bucks. No AC.
So there. I just told you about the stuff on my body when I go to work. I am no fashion geek but hey, these things belong to the package ---
ME. ------------Anyway, watched Desperate Housewives the whole day. I actually like it. Rome let me borrow his DVD collection...