Unpublished Lettoy for Mama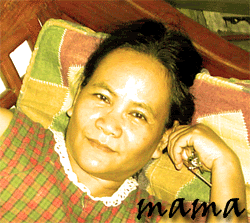 Mama,I love you.
I know I should be telling you that often and I am sorry for not being able to do so. I just can't relay how I feel. Words are not my thing when it comes to showing my emotions towards you, and the rest of the family. For years I seldom see you, talk to you, tell you my problems, and kiss you.
The truth is, I miss that. And I think
YOU are the GREATEST MOM
in the whole wide world. And I know a little secret. I was born 6 months after your marriage which means…;þ But that is totally fine. I should be happy and blessed you didn't get me aborted. Not that it is/was your thing but under the circumstances you could have done so. People had been harsh to you and your marriage and I hate them. I hate them for making you feel miserable and sad. And I promise, someday, we will win over those miseries. I promise.
Mama, I know sometimes you feel that I am so far away… so… so detached. I know that I am not the son you would have hoped for. I know I disappoint you a lot. And I am really sorry for being that way.
But whatever I have become or will become, I will still be your
baby Ian
who you and Papa call
"love."
I am still that baby who you brought with you to school while teaching. I will still be that little boy who you accompanied with to his first day in class, to his first dental check-up, to his first time on the stage to receive awards in school, to his circumcision.... etcetera.
I love you and words can never, ever be enough to say how grateful and happy I am that you are my Mama. I miss you.
HAPPY MOTHER'S DAY to YOU Mama!
Mwah!
Ian

----
Other Mother's Day posts:
(1) Of Motherhood, Children and Manicures
by Luxe, Fab and Phat
(3)
Mom
by Rob of Erase and Rewind