Movie and Sex
It is 4am, Monday. I just came home from an escapade. I was chatting earlier and I met this guy from Teacher's Village.
Enough about him. The sex was fine. He was forcing me to let him fuck. No fucking way Jose!
Anyway, before that he showed me a movie titled
FORMULA 17
(Director: Chen Yin-Jung). It's a gay themed movie about a guy who believed in love in all its essence. To begin with, he is a virgin and he won't have sex with just any guy who comes around. He must love the guy first.
The Virgin.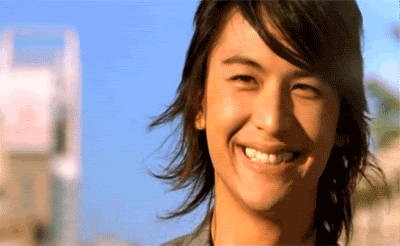 The Playboy
The Playboy and his bestfriend who I think is also cute. :þ
And then he met this guy in a bar in Taipei named Bai Tieh Nan (Playboy No. 1). This heartless guy has issues with relationships. He breaks every guy's heart. His motto: Never in bed with the same guy twice. Much like mine before.
I'll spoil it for you. They ended up together. What do you expect?
If you want to borrow the DVD, go right on. Leave me a message and I might just let you burn it. It's DVD so you must have a DVD burner first.
Quotable lines:
"You see, even love can pass away."
"But we can run after it."
"Huh? Run?"
"And chase it back."
"My feet are tired."
"I'll carry you."
------------
Details:
Director:
Yin-jung Chen
Cast:
Tony Yang
,
Duncan Lai
,
Chin King
,
Dada Di
,
Jimmy Yang
Release Date:
August 19, 2005
Running Time:
1 hr 33 mins
Official Site:
Click here....
Country:
Taiwan
Read Reviews