Meatshop Another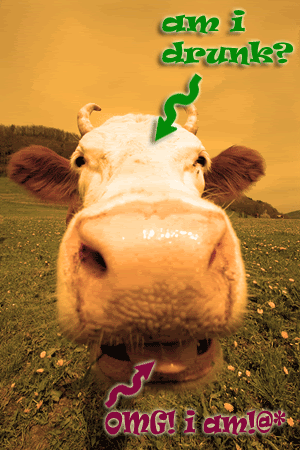 Sorry guys if you missed me earlier. I was planning to go online after my shift yesterday (technically earlier today—I get confused with time because of my job) but Rome and I decided to go to
Meatshop
again. He also invited his two gurl housemates. I am really bad with names. I asked them like thrice for their names but now I can't seem to find anything in my frozen brain. Argh! They're both from UP btw and one actually has a girlfriend (which means…)
Anyways, I had like 5 or 6 bottles of SanMig light. I developed a liking for the beer since the last time I was in Galera. Usually, I'd go for Strong Ice or Red horse but since the Galera trip, I have always opted for SanMig. I don't find any diff really. It's still beer. And beer will get you drunk. Like Machiavelli said,
"The end justifies the means…"
So as long as I get drunk, it doesn't matter what I take. Hahaha…
The drunkard in me.

It's weird but I woke up feeling good today. Although there are the usual headaches and bad tummy but besides that the feeling is just fine. I am even early here at work.
There is one stupid thing I did though when I went home earlier from Meatshop. I passed by 7-11 to buy me a Php115 Smart load. I left the store without the notification and until now I haven't received any (still hoping it'll come). Now I think I gave them the wrong number. Lucky bastard! He got a free load from the gorgeous ME. Hahaha… (assuming of course the owner of the number is a guy) It's aight. I got my phone loaded before I went to work. I also called
RJ
because he had been texting me and I haven't been able to reply lately. And since I can't seem to send out text messages (stupid network! I'm going back to
SUN
---
because everything important is under the sun
), I called him. I said hi and the conversation went long and my minutes were like running out. He called me baby btw. Hahaha. I think he likes me. Well I like what he posts in his blog. He asked me to make him a template. Another item in my-to-do list. I dunno though if I can.
Homer
also wanted me to do the same thing. Well with the work and all.
Talk about work. I'll never be promoted. I have waited like 3 months ironing out my stats but one eval ruined it all. And the sad thing is, it came from my favorite QA. Ha! Now I have to start all over… again from scratch. Life here in eTel is really beginning to suck (big time).
JP Morgan
, come and get me!
No.
Come and save me!
By the way, just got a copy of the new Circuit Asia mag. Dun remember the name eh! wahehehe...

-----
*the image above is a rehash from my previous post. click the image to read about it.