MOCC: On Punctuality
One hour more to go and I am outta here. My first day of Refunds after the training last week is about to be over and I CAN NOT WAIT. I mean it! I had like four calls and I sucked, big time. As in! Thank God for my friends. *does the sign of the cross
Anyways, I am not really feeling fine today. I have a very bad case of cold but I can not afford to be absent today. In fact, I do not want to be absent today. Attendance is really important to me and of course punctuality. I hate being late and definitely hate waiting. Patience is definitely not one of my virtues (if there are any).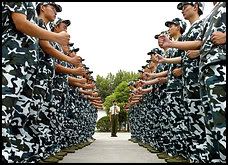 I think this goes way way back in high school. It was my junior year and me and my friends (coz we thought it would be fun) joined the MOCC (or for other schools they called it CAT). It was one year training that was held every Saturday. Being on time was strictly implemented. And when I mean strictly I mean there were consequences if you were late.
__________________________
5am – I wake up for the daily MOCC
training
6:45am – Formation and different drills begin. We also jog
around campus.
7:10am – Flag ceremony starts. It's either I do the
drums for the morning exercise or I am one of the flag bearers or shouts
"Talupad na!" in a seemingly constipated manner so the students will start to
form a line for the ceremony. After the flag ceremony we have our last formation
for the morning. Here, we are briefed of things about the training and some
other stuff.
5:30pm – We have our afternoon formation that usually
lasts for an hour. Here we have some more drills and shouting and chanting and
the like. Our officers also give us duties or tasks like do their paper reports
for class, do their notebooks for the grading period, carry their bags and books
home and some other stuff we are not allowed to say no to. Sometimes a small
program is also conducted. We were made to sing or dance depending on the
officers' mood.
__________________________

During the weekend training, we were made to rappel from one end of the rope to another with a dirty and smelly fishpond under us while we had our rifles around our bodies. We ate square meals during lunch and sometimes dirty and uncooked food.
This was how my junior high school looked like. One year of training to become an officer. We also had this thing called
Hell Week
when we were made to dress up funny for one whole week and we were not allowed to change outfits for the whole time we were inside the campus. And our campus included both HS and College levels and was a huge campus. I remember wearing
barong
with a
bayong
as our school bags. Also we were made to jeans inside out and other crazy stuff, again, depending on the officers' liking.
We also wore nametags. Mine was
pinokyo
. We had in front and on our back. Once inside the campus, we were supposed to double-walk meaning we had to walk faster (twice faster than the regular walking). Consequences awaited those who were caught not doing the double-walk. Every mistake came with punishments.
During our last training, we were maid to cover our bodies with mud, produce bubbles submerged to an irrigation tunnel, wear our co-trainees' uniforms, share one piece of candy, and other gross stuff, again, depending on the officers' demands.
After the one-year training, our positions were given to us during the graduation. And I became Lieutenant Commander for Alpha Company and under me were two platoons. I was also the fifth from the highest position during my senior year.