White Party - Before and After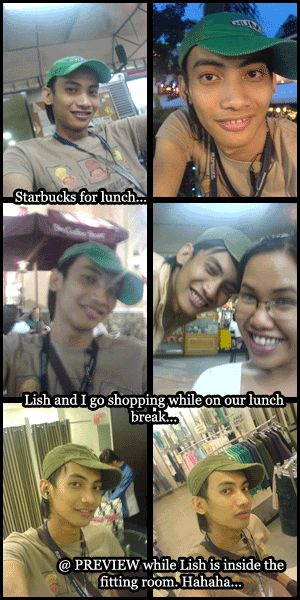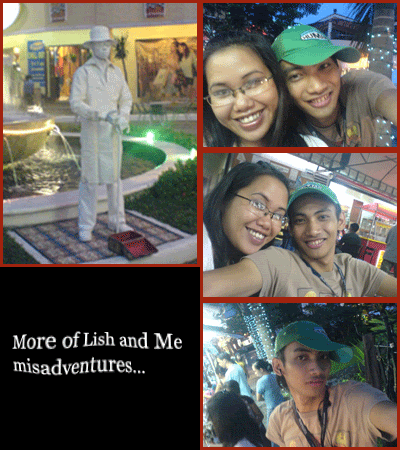 Here's what I did before the party while @ work. Hahaha...
So here's what happened at the White Party. I am sure you've been wanting to know what transpired. So here it goes.
I arrived there around midnight and to my surprise there were so many people. It was like all the gay guys in the metro had came out and celebrated their gayhood in one single night at one single place named Orosa Napkil in Malate. There were a street party and everyone was sweaty and dancing. Though not most were in white but still people felt at home kissing at every corner, shouting their lungs out and drinking bottles after every bottles of beer. It was like the party was forever.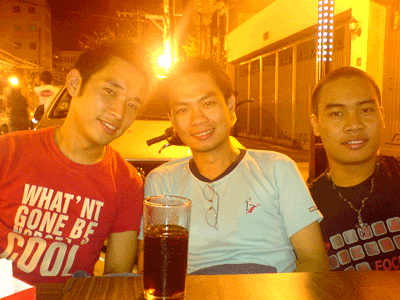 Vincent, Dion and Carlo at the party...
My friends were in Sonata and going there was literally a hassle. I mean it was really hard pushing yourself against the crowd. I was holding really tight to my bag afraid somebody might just snatch it from my bod. Hahaha. You know, precautions. Malate has been famous for cellphone snatching and stuff. It's better to be safe.

After Sonata we stayed at Music Motion where I ate and had a couple of beers and a can of coke for the finale. Outside people were going crazy because some guy was showing off naked from the window of the second floor of Top and Bottom. I never saw it though. I was busy eating.

There were also some people who wore costumes. I saw a couple with angels' wings, and then a couple of fat guys in a snowy costume - more like the snow queen in Narnia. Hahaha. There was also this gay guy who wore fans or as we call it abaniko like a gown. She was magnificent though. Everyone was really creative with their customes.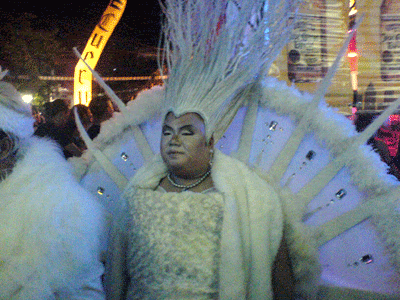 Ice Queen. Hahaha. Reminds me of Narnia... only fatter...

Look at the crowd. Seems like all the gay people in the Metro was here... Hahaha...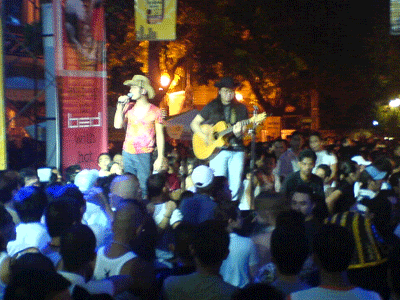 If you can only see the vocalist. He's so fucking cute... Yumyum!

Bern was there as well. He's this cute guy I have been wanting to meet. I knew him through Lexan. Saw his webpage from Lexan's links. He was at the party so we decided to meet. I saw him first standing in one corner. I smiled. Just smiled. He's too cute and I didn't think he'd like me.

I also met guitar_kid. Hahaha. One of my fellow bloggers here and a frequent visitor as well.

Seeing Bern wasn't enough so I asked him if we could talk. He said yes. So I left my friends and met him somewhere. After talking to his friends, we decided to leave the party and go to his pad. We passed by Jolibbee and ordered take-out. We ate at his place...

Got home around 7 in the morning. Was really tired and sleepy from the party that I slept the whole Sunday. I woke up earlier around 4 in the morning and haven't slept since. I left the house around 8 in the morning and headed to Malen's house where we watched Simone (for the nth time) while having lunch. Afterwhich I headed to Gateway hoping to watch a movie to kill time but I found myself having coffee at Starbucks.

Around 4pm, since I have nothing better to do, I headed to Eastwood at roamed around the mall. I saw this pair of earrings at Cleo's so I bought meself those, put 'em on and headed here in the office. I think I'll sleep in the lounge until around 10pm just in time for my shift @ 11pm. Hayyy...

-----
Anyways, I have already posted the pics I owe this blog from my previous posts. You can now view 'em.
Xander at Bo's
Meeting An Old Friend