So Much for The Drifters
I was able to watch
Superman Returns
and
Tokyo Drift
last Friday and I was not at all satisfied with the movies. But first, here's a spoiler:
Superman has a son
. Hahaha.

What would the movie do without Brandon Routh. He's just uber cuteness!!! And there's rumor spreading that he's gay. Read this article. And by the way, you'd be surprised to know that he's nickname is BJ. I would love to try that. Hahahaha...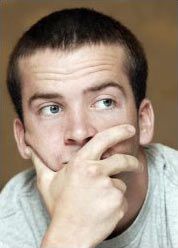 He's not Paul Walker. This lad here is Lucas Black. He doesn't know how to act. Trust me. And he's southern accent does not suit him. Tokyo Drift drifted six feet under... No rumors about this guy. Not at all interested!
I don't know. Superman was kinda dragging and the story was so simple. It's like it was taken from one of the episodes in Smallville. And Lex Luther wasn't that effective an antagonist. They did not divert from the original score though as well the kind of fonts used for the credits in the introduction. But one this is for sure though, the guy who played Superman is soooo fucking fuckable. Hayyy… Besides checking his butt and front bulge, I did not enjoy the movie at all.
The Fast and the Furious Tokyo Drift. It's a disaster. The actor doesn't know how to act. And he's too old and buffy (not to mention his receding hairline) for a high school student. And the other actors were really bad. And the girls in Tokyo were like so obsessed with their phones. The movie was just a mess. The script was bad, the actors were terrible and the story was as bad. Argh! The cars were nice though.
I watched Superman alone and Tokyo Drift with Erwin at SM North Edsa which I think is overpriced as well.


Click here to go to his website...
Moving on, I spoke with Homer the other day and he was referring me this pinoy website
http://www.kuazee.com/
. He says the 24-year old author resigned from work just to focus on his ideal. I have never seen anybody as dedicated as that. I mean to quit your job which pays you $1000 a month? Wheew! I could never exchange that for my ideal. Well who cares anyways?
Anyways, I think it's a nice website. I listened to one of his podcasts that automatically plays when you visit his site and he's really funny and witty
and imaginative
. And it's
pure pinoy
so if you've got nothing better to do, instead of visiting the Britney Spears website to check if she has gone fatter ('coz it makes us feel better), I'd strongly suggest that you visit him. Let's support our own!
---
For Rob
– I am really sorry baby for not being able to visit your site. I am just so busy and when I am at work I don't have the time and the extra PC to do my surfing. Since there are a lot of calls during graveyard and there are many agents as well as compared to my previous shift which was midshift (3pm-12am). This goes out to all of you guys, gals and the in-betweens as well. I am really sorry. But I promise to try to visit your sites soon. Hope you won't stop supporting and visiting my blog under the circumstances. I love you all. Mwah!
---
[update 7:30am]
My God! Am I lucky or what? I saw my crush from Sitel when I took my lunch earlier and during my last break we were in the same elevator.
And he looked at me thrice!!!
Hayyy... He is soooo cute! I'll try to steal a picture of him using my camphone and post it here for you guys to see. Hahaha...
Stalker!!!