I Just Want To Sleep
Gawd! I am awake for almost 24 hours now.
I just could not sleep. I went here to work early so I could get some sleep but to no avail. And now I am so sleepy but I could not sleep for I might oversleep and be late for my 3pm shift. I have been trying to sleep since 10pm last night but I could get myslef to. Must be the cans of cans of Coke I drank yesterday. But still.
Anyways, here's what happened while I was away. After my shift last Sunday (technically early Monday) I waited for Mark and Joppee to logout so we could go to Luis' birthday party at Meatshop. We left the office around 3am and took a cab to Meatshop in Katipunan. By then, the rain was beginning to pour really hard. When we got there, I went out the cab and checked where the guys were. Unfortunately, they ain't there. We were too late. Everyone went home and I was so freaking wet because of the rain.
We had the cab go to Cubao where Joppee dropped Mark and I off along Aurora near Gateway. We smoked for a while and waited for a ride home. Well, that was my original plan. But
Scott
was still awake waiting for me hoping I'd show up. So I decided to drop by Stonehouse Hotel along E-Rod. Mark and I took the same cab and he dropped me off in front of the Hotel where this old fat guy was standing, waiting. It was Scott. He asked me to wait in the resto while he put his bag in his room where his boyfriend was sleeping.
When he went down, we ordered coffee and had this long conversation about immigration, the law, the government, his exboyfriend, his current boyfriend, his apartment in Angeles, Pampanga, his stay in the Philippines, and then his current boyfriend who's name was
Edz
. Around 6am he woke up Edz for he has a class and then we had breakfast. Edz was only 18 years old,
moreno
, I think he was 5'7" tall and slim and he was silent the whole time. After the breakfast, I bid goodbye to both of them and took a jeepney to Cubao where I rode the bus home. On the bus, Edz texted me saying sorry for not speaking during the breakfast adding that he was just tired and sleepy. Then Scott texted me saying Edz liked me. Whuaaaat?! I told Scott to remind his boyfriend that he was attached. Hahaha. Well, Scott told me that it was okay if his bf fucks other guys as long as he don't fuck other foreigners. That was one of their agreements.
Stayed home the whole Monday, watched TV, and slept. Come Tuesday, I uploaded some pictures at
flickr.com
(check my flickr badge on the right side) and also updated my Friendster account. I also made some wallpapers for my phone. Finally installed
Photoshop CS
in my computer after my brother reformatted the PC and edited some of the pics.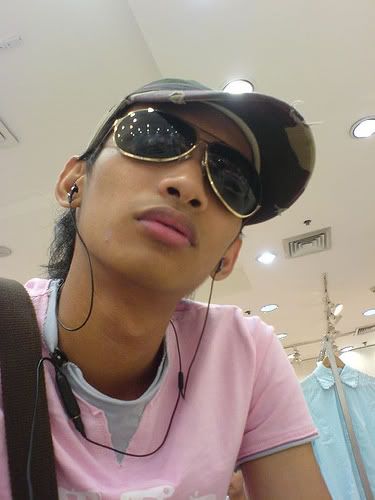 @ Kamiseta waiting for Aphol to finish her shopping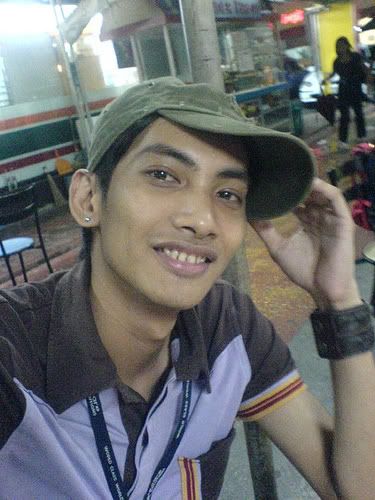 @ Hepalane deciding what to eat for lunch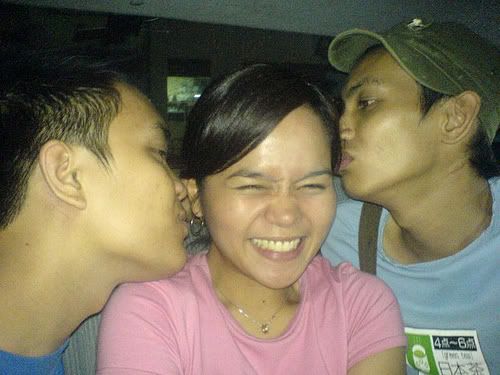 Mark, TL Miren and Me going to Pork Barrel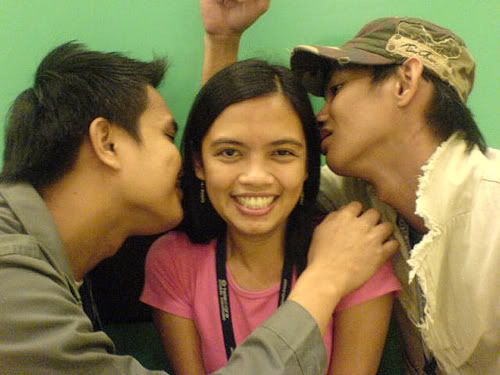 Mark, TL Irene and Me @ Binalot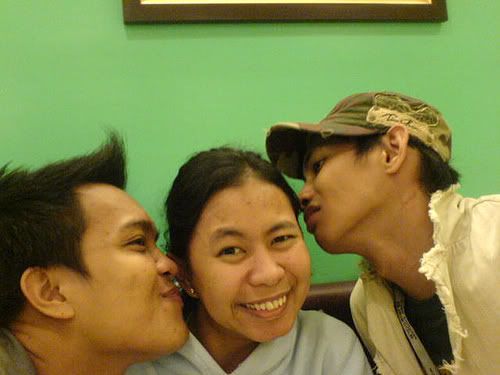 Mark, Rhone and me @ Binalot
Around 11pm, had phone sex with
Carl
and then stayed in the room and jacked off for the second time. I still couldn't sleep so I went to 7-11 and bought me a can of Coke and a pack of Winston Lights. Stayed outside the house and smoked. Around 2am, a guy called asking me to come over his place because he was horny.
AR
(not his real name but I am giving you a hint. He is a blogger. :þ) picked me up at 7-11 and we went straight to his place. It was just a quickie and I headed straight home after. Still couldn't sleep so I smoked again and afterwhich made more wallpapers for my phone.
Tried to sleep around 5am but I still couldn't. Until my sister woke up to prepare for school and she was making too much noise that made it a lot a harder to fall asleep. When she left, I was already hungry so I decided to make breakfast (whoooah!).
Ginisang sardinas at pritong itlog
. I also had coffee and smoked after then decided that I was not gonna fall asleep at home so I took a shower and headed straight to work. Arrived around 9am (weird, the traffic was fine except of course the hassle of the crowded MRT) at work. Everyone was surprised to see me and I told them my story of not being able to sleep. And now it's 10minutes before 1pm and I am still typing this blog. After this I am gonna try to sleep for 1 and a half hours in the sleeping lounge.
So if you see any errors (typo or otherwaise) forgive me. I just wanna sleep.