New Haircut and New Everything Else
I am back!
I know I have been saying that these past few weeks but I've been so busy with work and with other stuff lately. But no worries, I am back to my usual schedule and I'll make sure to blog everyday so you won't miss me that much. Or did you?!
This post is gonna be pictures galore!!!
Anyways, I have been on leave since Thursday last week and then on days off last Monday to Tuesday. But I am going to work today. Shift starts 3pm.
Tueday (Last Week)
I met John (not his real name). He had been in a seminary for the last five years and then decided to come out from the church ceiling of Michael Angelo's magnificent paintings. We watched "See No Evil" at Gateway and then had dinner at Tokyo Tokyo. I have his pics but sue to the circumstance of his being (gay) I am not going to show it here. So we got it going on inside the cinema. His hand inside my pants and mine inside his. Of course we did not finish there. Oh no, the movie was fine, it's just that we were just a couple of horny bastards. After the movie we had dinner at Tokyo Tokyo and afterwhich we headed to Eastwood for I have work that night. We took a cab and on the cab I started giving him head and took pics of his dick. Oh boy, was it HUGE! Hahaha. I am not posting that either.
Friday (Last Week)
Second day of my leave. I met Dave at Gateway and headed to Megamall to see Xander and his new boyfriend (not my type, again). We had lunch at Sbarro and had coffee after at Starbucks.
Dave and I watched Pirates of the Carribean after while the two lovebirds went to some arcade (totally not my thing).

Love the movie though I can't seem to remember the previous one. Or have I watched it?
After the movie I went straight to SM North in hope to have my hair done. But FIX was crowded so I decided to check some stores. And low and behold, the cutest pants ever from OXYGEN. Much like the one at Whoops I've been wanting buy, only this cost like a couple of hundred less. I tried it on along with a polo shirt and woalla! The next thing I knew I was paying for it at the cashier. The spender in me.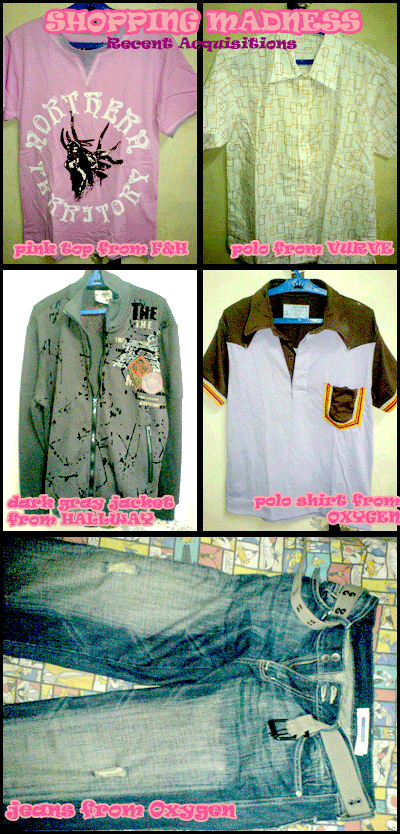 Saturday (Last week)
It's Rocky's birthday. I did my shopping in the morning. Met up with Aphol at Glorietta 4. The original plan was I would have my haircut there but the line was just so long at Fix that I had to have my haircut at some barbershop near the house. Anwyays, while I was waiting for Aphol who was, as usual, late, I did some window shopping at Vurve, Hallway and Structure. And guess what? The window shopping ended up to actual SHOPPING. The signage SALE was just so unbearable I had to grab a few stuff. I ended up buying this polo from Vurve and a jacket from Hallway. Went to SM North after and bought socks at Human.
I met Dion around 6pm at Starbucks SM North and then we waited from Aldrin and his new boylet. The new boylet ain't bad but totally not my type. Aldrin is sure safe from me. Hahaha. As soon as Aldrin arrived, we headed to Rocky's place. We were dead hungry that time and on the way I was already imagining menudo and ice cream etc. Hallelujah! MENUDO indeed! That day before, I told Rocky I wasn't going. Some kinda surprise and he was sure surprised to see. He was still as cute as he was the first time I met him. too and we became friends. You see, friends don't fuck with each other.
Uhmmm well, sometimes they do too. Depends really... Wehehehe…

A few more hours passed and the rest of Rocky's friends (my friends as well) arrived and with them Takeshi, the new apple of my eyes I am so ready to bite. Grrr... I've known him for like a year but it was only that night that I saw his cuteness. Plus, he is singkit.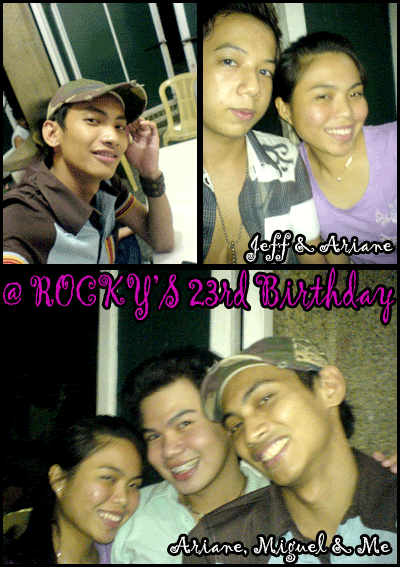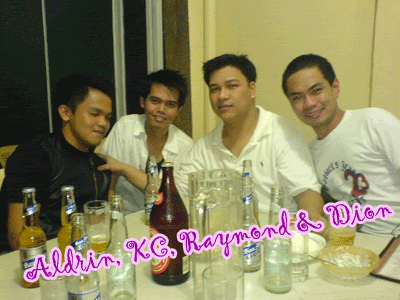 Went home around 5 in the morning and slept the whole of Sunday. Monday night I was with some guy at his house downloading mp3s to my phone…
and something else. Hahaha.
Spent the whole Tuesday at home, rented vcds (which btw is already overdue) and snuggled in bed with Janah.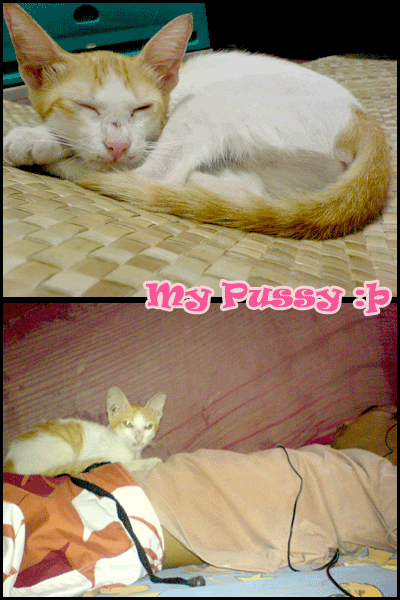 Anyways, here are more of my pictures taken while I was
away
. And I took photos of me wearing pink too so you can tell if pink is my color. I think someone asked me to do this. Forgot who he was though.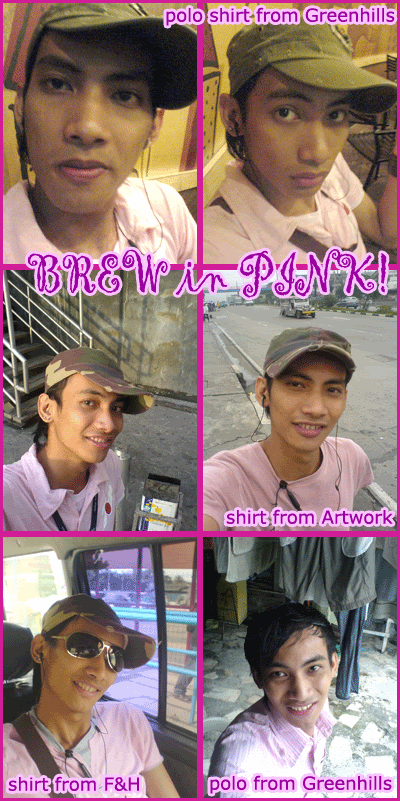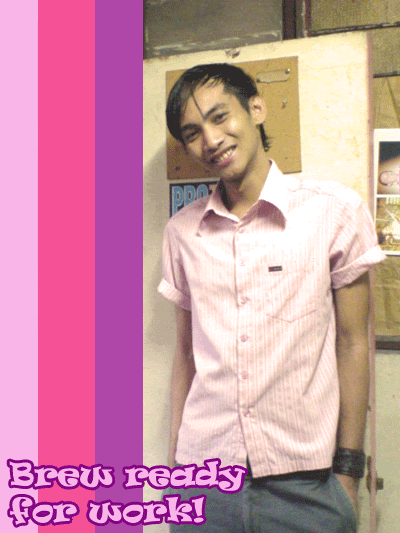 Me in BLUE!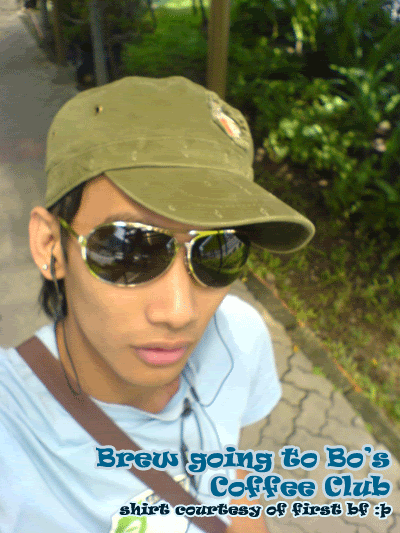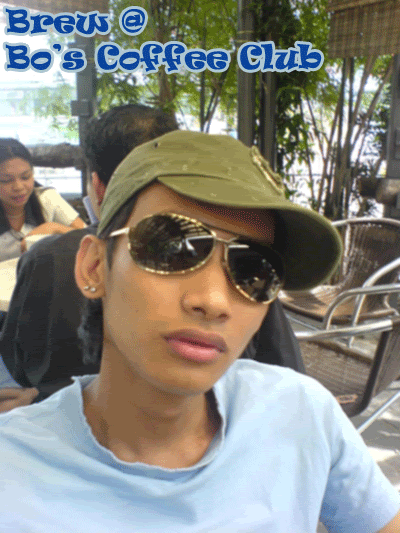 Hope you like me pics! More coming soon!